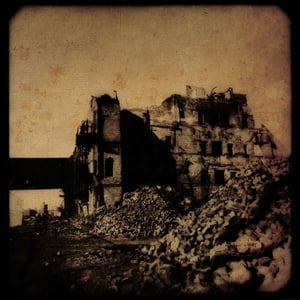 $

12.00
*Vendetta Records*
-Review from metalunderground.com
With its debut self-titled EP, Batillus rolled onto the scene with a massively crushing sound and an assortment of interesting side treks. The lumbering doom machine has teamed up now with one man act Hallowed Butchery for a split album to show off the talents of lesser known doom bands that aren't afraid to experiment. Both sides of this split have some pretty impressive takes on the genre, and serious streaks of individuality that make the songs worth hearing for fans or people who aren't normally doom fanatics.
Batillus gets the split started off with the first three tracks, which have been noticeably trimmed down from the 11 minute behemoths on the band's earlier EP. With run times around eight minutes, each song still has plenty of time to move along at a nice simmer, however. As an added bonus, the group finally brought on a vocalist for this release. The rough growls add another dimension and make the music both more aggressive and more accessible for people who don't care much for unending, slow moving doom.
The three Batillus songs all keep up the band's trademark of huge, drawn out riffs that destroy everything in their path. To keep things interesting there are always a few curve balls thrown, like slow bass lines and ethereal guitar work complete with backing whispers in "The Children of Night Make Their Music." "Beyond the River" also gets more psychedelic, but it's more of a minor motif than a major theme.
Hallowed Butchery starts off its side with a slightly faster song that's only a mere two-and-a-half minutes. The song has a strong industrial edge, with repeating guitar and drum sounds bringing to mind big pieces of machinery clanging together and shooting off steam. Before anyone thinks there isn't any doom going on, the song leads into closing track "Coffin Life," which is a monstrous concept song nearing 14 minutes in length.
"Coffin Life" is almost a mini-album all its own, going through many different transitions and utilizing many different styles and shifting influences. From snail's pace plodding guitar work, to segments with acoustic guitar and melancholy clean vocals, the song goes on a huge journey that seems to tell the story of a man contemplating and then finally committing suicide. The despairing intonation of "There is nothing left for me, goodbye" followed by a cocking gun before an explosion of metal is a stellar mixing of theme with music.
At the end of the split it's clear that Batillus has the better overall quality and sound, but Hallowed Butchery is more unique and has a wider range of musical expression, which really means they both win in different ways. Doom fans or experimental metal fans should seek out this split and see if they find two new favorites among the up-and-coming additions to the genres.
Highs: "Coffin Life" is an epic journey that has it all, the Batillus songs are polished and will please fans of slow moving doom.
Lows: Hallowed Butchery has a slightly rougher sound quality, and "Beyond the River" drags a bit towards the end.
Bottom line: An epic doom metal split from two up and coming bands that aren't afraid to experiment.